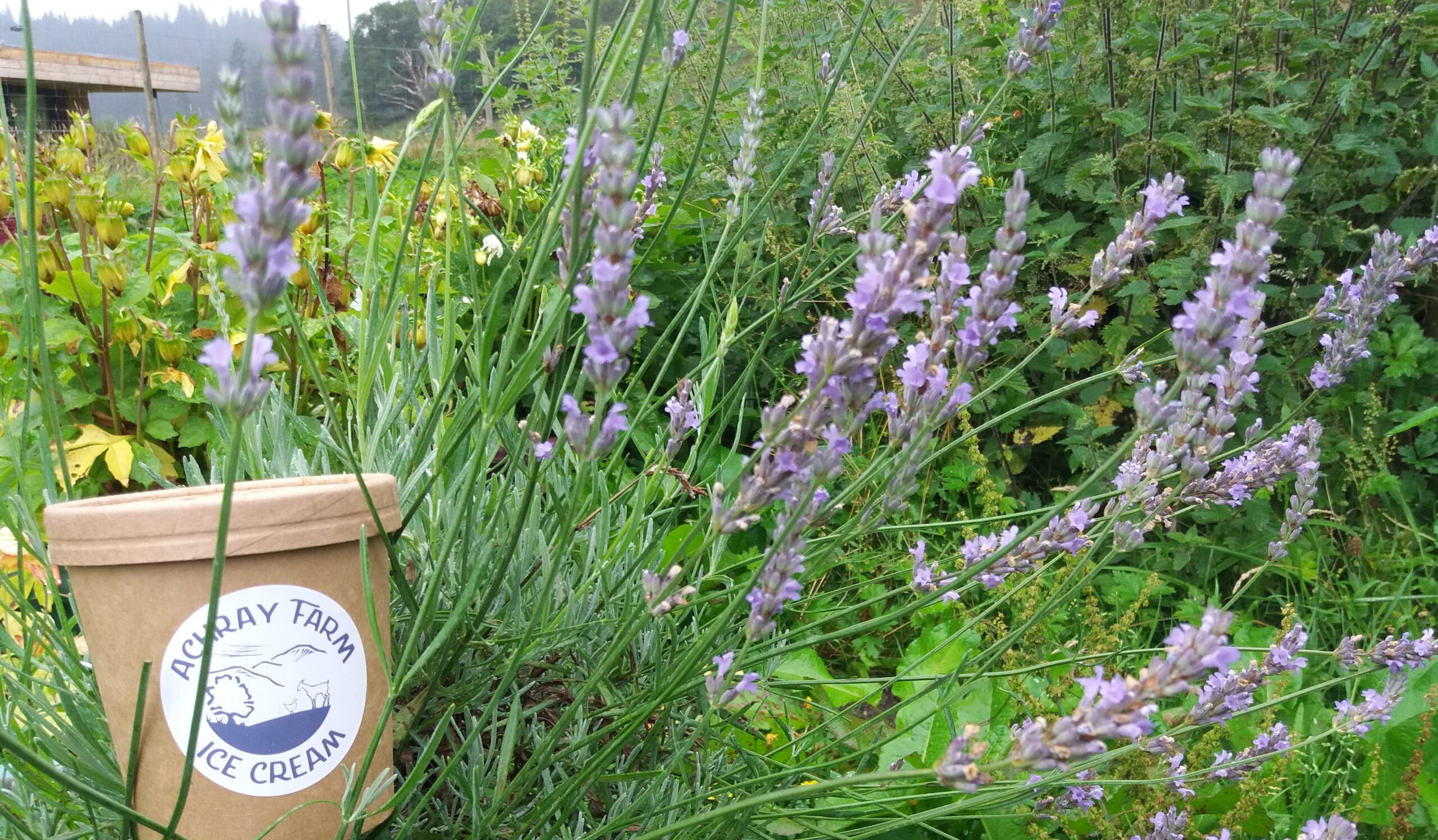 Achray Farm, a smallholding in the heart of the Trossachs, has launched a range of ice creams produced with the milk from its herd of goats, blended with foraged ingredients and produce from their fields, which they sell direct from their doorstep to walkers and cyclists in the area.
Nicola Hornsby and Crispin Hoult have built up a small herd of goats since moving to the farm nearly four years ago. Nicola makes the ice cream in small batches using seasonal flavours. Last year she took part in Wildwonders, a training programme funded by Forth Valley and Lomond LEADER, on which she learnt about finding, identifying and using wild ingredients from some of the foremost foragers and foraging chefs in Scotland. Flavours on sale so far include elderflower, meadowsweet, rhubarb and strawberry, fresh mint, blackcurrant and blaeberry, all of which have come from the farm itself or walking distance of it. Other ice creams include a stracciatella with fair trade dark chocolate and Achray Original, made using organic honey. The ice cream is sold in tubs to serve individuals at a cost of £3; larger tubs are available for those who bring a freezer bag. . The development of the ice cream kitchen at Achray Farm has been part funded by LEADER, as has an electric trike for selling ice cream locally.
Visitors to Achray Farm can rent the Old Farmhouse, which sleeps six, as well as the newly renovated Bothy, which sleeps 4. Local pub, the Byre Inn, is a short walk from the farm.
Nicola and Crispin are committed to reducing food miles and carbon emissions so encourage visitors to the farm to visit on foot or by bike.  Achray Farm sits on the Great Trossachs Path with easy access from the Byre Inn or the Three Lochs Forest Drive. The NCN7 Lochs and Glen Way links many of the villages and routes in the area, and goes almost past the door of the farm. A series of new e-bike routes have been launched this summer, passing close to Achray Farm with e-bike hire available at various points and fast chargers along the way. Details of the e-bike routes can be found at https://www.fvl.org.uk/cycle-tourism/e-biking/.
Nicola Hornsby said:
"We've been delighted with the response to the ice creams we've produced so far. We've developed Achray with sustainability at its heart so producing ice cream with our own goats' milk and fruit and selling it to those who've walked or cycled here, is a real thrill! It's lovely to be able to reward those who've made use of the walking routes and cycle paths through this beautiful part of the world with something really delicious. It's also a joy to start to use the knowledge and skills I gained on the Wildwonders foraging course last year by introducing visitors to the wild and seasonal gifts that grow on our doorstep.  There will be many more wild and seasonal flavours to come!"
Nikki Kenn, Development Officer at Forth Valley Lomond LEADER said:
"I'm delighted that LEADER has funded this innovative and low carbon project. Achray Farm ice cream has been able to develop some intriguing wild flavours after having taken part in another LEADER-funded project, Wildwonders, which trained 12 local businesses in foraging skills, and went on to run Scotland's first ever Scottish Wild Food Festival. It's particularly satisfying to see Achray Farm ice cream being served up to a lucky crowd of cyclists using the route maps we've just launched too. This region certainly has a rich variety of opportunities for locals and visitors alike to engage with nature and the great outdoors!"
Nicola and Crispin have extensively renovated Achray Farm's listed stone buildings and planted fruit trees, bushes and native hedging. The small goat herd is fed on a varied diet and also forage themselves on the Achray Grazings that run down to Loch Achray. Nicola is experimenting with developing forage within the farm, which will also improve the soil and increase biodiversity. This includes planting willow to coppice, seeding areas of herbal ley, and growing Jerusalem artichokes perennially. The goats are also fed small quantities of Scottish seaweed meal, which is rich in minerals and nutrients and which Nicola also hopes will significantly reduce methane emissions from the goats.
For more information on Achray Farm, visit https://achrayfarm.co.uk.
Those interested in finding out more about wild flavours and foraging can find details of the LEADER-funded Foraging Fortnight programme at www.foragingfortnight.co.uk. From cookery workshops and foraging walks, Foraging Fortnight is a series of virtual events that runs from 29th August – 13th September 2020.