About the event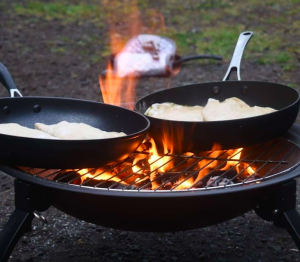 For this special event, Vicky has teamed up with The Old Garden Nursery in Taynuilt, where we shall wild craft our own pizzas to cook over the fire.
We'll meet at 10.30 am and have a welcoming circle to get to know each other over wild tea and cake before heading off for a mindful forage, exploring the hedgerow and meadow, learning about and gathering wild edible and medicinal plants along with some of the magical folklore that's woven around our green friends.
We shall forage our way back to the garden where we will shape our own pizza bases (Vicky can help if anyone gets in a pickle with this!). As well as the wild plants we gathered on our walk, there will be some familiar garden veggies to also go on the pizzas, along with a selection of pestos made with ingredients from the Garden as well as the hedgerow.
There will be some delicious wild and garden salads to sit alongside your pizzas once you've cooked them.
This will be washed down with some wild and Garden teas and coffees and a sweet wild treat.
Time: 10:00am - 2:30pm
Cost: £44.04
Child: £22.38
Location and instructions:
The Old Garden Nursery
View website
Book event