About the event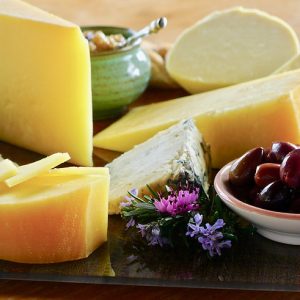 A unique opportunity – the only one like it in Scotland.  1 day comprehensive in depth course providing invaluable skills for enthusiasts, cheese sellers and cooks on types of cheese, taste tips, selection, presentation, storage, FAQ's (lactose, goat's milk, veined cheeses, unpasteurized etc), promotion and selling artisan cheese.
This day includes a practical demonstration of cheesemaking.
The course is facilitated jointly by Wendy Barrie and Kathy Biss, both experts in their field. Delegates will be coached through all aspects of artisan cheese, to inspire and educate, enabling confidence in handling produce and practical skills to improve quality of service. Inclusive of tutored cheese tasting, lunch and course notes.
Kathy Biss is a highly respected cheese maker, tutor & author of Practical Cheesemaking. Wendy brings her skills in food tourism and knowledge of cheesemakers in Scotland and beyond.
Scottish Food Guide Members are eligible for a Member's Discount so please contact me before booking.
Attendees must be 16yrs or over.
Please advise of any Dietary requirements in advance at booking.
Time: 10:00am - 4:30pm
Cost: £120
Location and instructions:
The Scottish Food Studio
View website
Book event