About the event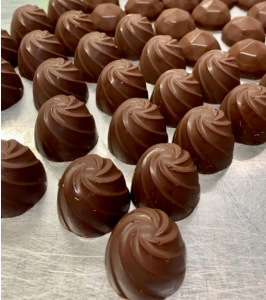 Full day masterclass 12-5pm at Ballintaggart Farm.
The perfect class for those looking to refine their chocolate skills. Learn how to temper chocolate, make a basic chocolate ganache, and create an array of tempting truffles.
We'll also let you in on the secret behind our famous Ballintaggart brownie and salted caramel chocolate tart.
Ballintaggart masterclasses are packed with expert tips and hands on experience and include all ingredients, class notes, recipes and a kitchen goody bag. Your indulgent late lunch will include the food you've prepared throughout the class and there will be plenty to take home with you too.
There is limited accommodation to stay at Ballintaggart Farm before or after each masterclass – contact for further information.
Time: 12:00pm - 5:00pm
Cost: £175
View website
Book event