About the event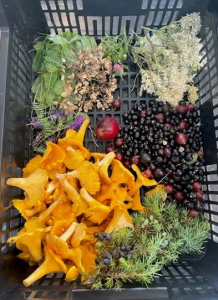 Just outside our Foraging Fortnight, but couldn't resist including this Full day masterclass at Ballintaggart Farm.
A class that perfectly reflects our passion for finding the finest local and seasonal produce, along with introducing new techniques for outdoor cooking. This is a chance to learn more about foraging from our experts, gather your own ingredients and to bring a sense of outdoor adventure to your dinner table.
Ballintaggart masterclasses are packed with expert tips and hands on experience and include all ingredients, class notes, recipes and a kitchen goody bag. Your indulgent late lunch will include the food you've prepared throughout the class and there will be plenty to take home with you too.
Time: 12:00am - 5:00pm
Cost: £175
Location and instructions:
Ballintaggart Farm
View website
Book event