About the event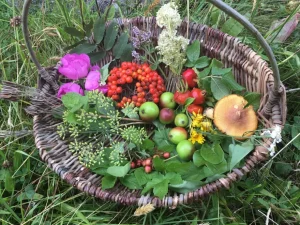 This is a two day event.  You can attend either or both days – details below.
Did you know nettles can be spun into silk? Have you heard of solar dyeing? Discover how textiles can be made from the plants and natural materials around us in a hands-on workshop with two parts.
On day one, Textile artist and historical interpreter Kirsten Milliken will demonstrate a variety of ancient skills waiting to be rediscovered by would-be crafters. This will include creating twine from common plants that you can easily find growing in your garden and beyond.
In the second part, she will move on to solar dyeing, a method of using plants to colour and imprint. Participants will create their own sample in a jar to take home and look forward to unveiling.
On day two, forager, ecologist and nature guide Ian Edwards will share his expertise on a family friendly walk through the grounds of Wiston Lodge. We will be looking for seasonal flowers, fruits, roots and mushrooms that will provide the basis of a simple demonstrate of preparing, cooking and enjoying wild foods.
Tea, coffee and lunch with produce from the Wiston garden included in tickets.
Price per day, adults, £55, children, £35. Both days, adults £100, children £60. Practical activities suitable for age 7 up, and all children must be accompanied by an adult. Smaller children welcome but may require assistance from an adult to participate. Times 10am-3pm (will be confirmed closer to dates).
Time: 10:00am - 3:00pm
Cost: £55/ day (or £100 for the two days)
Child: £35/day (or £60 for the two days
Location and instructions:
Wiston Lodge (https://wistonlodge.com/)
View website
Book event