About the event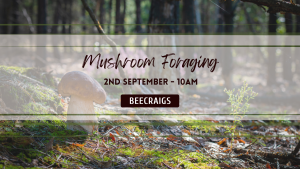 Join me for a woodland forage, searching for wild fungi. We will look at different mushroom families including the boletes (boletus), milk caps (lactarius) and brittle-gills (russula). Ambling through the trees and along the lochside we will explore how to make wild food a staple and the benefits of doing so – from the nutritional to the cultural and philosophical.
Throughout the morning gather the basic skills required to identify common edibles as well as how to avoid poisonous & inedible lookalikes. Learn how to use foraged food and discover what it is like living on a completely wild diet. The walk will last ~3 hours with the opportunity to stay a little later to ask chat and ask questions. Suitable for all ages with children welcome – individual or family tickets. Toilets available on site, and Beecraigs boasts a lovely café near our meeting point. Note: The nearest rail station is Linlithgow, which is 3 miles from the park.
For single child tickets please contact me directly.
Time: 10:00am - 1:00pm
Cost: £30
Concession: £25
Child: £5 (under 5's free)
Location and instructions:
Beecraigs Country Park Beecraigs Country Park Linlithgow EH49 6PL
View website
Book event