About the event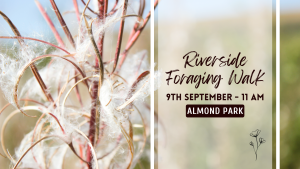 Join me for a riverside forage, searching for wild greens, botanicals and edible flowers. We will be sure to find the wonderfully scented pineapple weed, healing plants such as plantain and yarrow, and, if the weather is right, look at different fungi. Ambling through the trees and alongside the Almond we will explore how to make wild food a staple and the benefits of doing so – from the nutritional to the cultural and philosophical. Throughout the morning gather the basic skills required to identify common edibles as well as how to avoid poisonous & inedible lookalikes. Learn how to use foraged food and discover what it is like living on a completely wild diet. The walk should last ~2.5 hours with the opportunity to stay a little later to ask chat and ask questions. Suitable for all ages with children welcome – individual or family tickets.
Accessible via public transport.
Please note there are no toilets available at this location.
For single child tickets please contact me directly.
Time: 11:00am - 1:30pm
Cost: £30
Concession: £25
Child: £5 (under 5's free)
Location and instructions:
Almondell & Calderwood Country Park
View website
Book event