About the event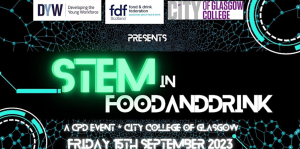 A special one day CPD event presented by DYW and Food and Drink Federation Scotland with the National Food and Drink forum aimed at Teachers, DYW School Co-Ordinators, Career Advisors and Jobcentre workcoaches.
With special guest presenters and workshops including SmartSTEMs, Lantra and Quality Meat Scotland.
For many years, the value and importance of the food and drink manufacturing sector has been misunderstood and is often incorporated into cookery classes in schools rather than Science and Engineering.
As part of our ongoing national awareness drive, we invite you to this unique day of awareness building workshops designed to contribute to developing a richer understanding of what the food and drink industry does, the skills, in particular STEM skills, required and exciting career opportunities it provides.
Join us for this special one day event and be taken through the science behind the flavours as we investigate and highlight the Science, Technology, Engineering and Manufacturing of one of our countries largest and ever adapting industries.
City of Glasgow College, Friday, 15th September – 10.00-14.00
Time: 10:00am - 4:00pm
Cost: Free
Location and instructions:
City of Glasgow College
Book event