About the event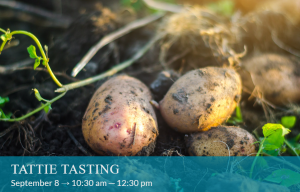 The dust from Mount Hekla's 1845 eruption is said to have given Orkney its best-tasting tatties ever. Could rock dust improve the soil and help today's crop? Several growers in Orkney and Moray have been testing this in their gardens, and they've brought a selection of tatties to Orkney College for you to taste, some grown with rock dust and some without. Hospitality students at the college will prepare and serve the mystery tatties for tasting opinions. Could there really be a difference in flavour and texture?
Richard Shearer introduces some of the varieties; Liz Ashworth, author of The William Shearer Tattie Bible, outlines the varied ways to cook them; and Prof. Karen Johnson looks at the effect of rock dust on soil. We round off with some tattie treats, specially created by the students to taste and try.
Numbers limited to 30, booking essential: tickets £10.
Time: 10:30am - 12:30am
View website
Book event