About the event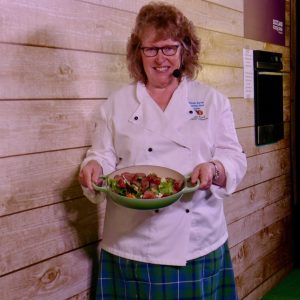 Join us for a celebration of Scotland's culinary treasures! Indulge in a delightful tasting
journey featuring ingredients sourced from the kitchen garden, hedgerows, and picturesque
islands. This unique event will take you on an adventure through Scotland's rich gastronomic heritage.
We are thrilled to have Wendy, a highly respected cook, food writer, and passionate
advocate for local produce. With her expertise and culinary prowess, Wendy will lead you on a fascinating trip around Scotland, unveiling some of the region's lesser-known ingredients along the way.
Enjoy this memorable experience in the unique surroundings of the tropical glasshouse. We
know you'll be inspired by Wendy's passion and enthusiasm for cooking with seasonal local
produce, and you'll probably want to know and taste more. Signed copies of Wendy's book,
"The Swedish Farmer", will be available on the day to make the moment more memorable.
Book your tickets now to secure your spot for this one-of-a-kind culinary celebration. Come
prepared to tantalize your taste buds and create lasting memories. We can't wait to welcome
you to Scotland's Finest Seasonal Delights!
Time: 1:30pm - 2:45pm
Cost: £5.91
Location and instructions:
Pittencrieff House
View website
Book event