About the event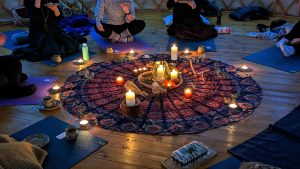 Join Stef from Oak & Wildflower in the bell-tent for a transformative experience at our Wild
Women's Circle. This empowering event offers a unique opportunity to connect with nature
and each other.
Highlights:
● Explore the healing power of herbal medicine.
● Take part in a mystery herbal tea tasting and try wild-ingredient baked goods while
learning how to forage the ingredients yourself.
● Embrace the serenity of nature in a supportive circle with like-minded women.
● A guided relaxation to help to you feel more grounded and calm.
● A safe space to open up and share with other women without risk of judgment or
advice-giving
Don't miss this chance to slow down, unwind, and discover the wisdom of the wild within
you.
Limited spots available, so reserve yours now!
Time: 2:00pm - 4:00pm
Cost: £9.09
Location and instructions:
Pittencrieff House
View website
Book event